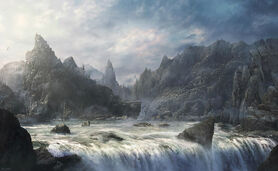 The Kingdom of Byrisvik nicknamed the "Iron Blood Kingdom" is a kingdom in the north-Western area of the county of Karnione, towards the north-Western coast of the Kingdom of Falcon. It is situated near the Main Capital city of the Dwarfs and Nordic people joining together into one single kingdom.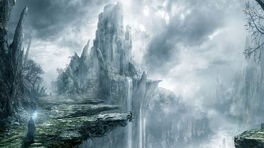 The Kingdom of Byrgisvik covers an area of 78 thousand square miles. Of this, 75% (59 thousand sq. miles) is arable land, and 24% (18 thousand sq. miles) is wilderness. The Kingdom of Byrgisvik has a total population of 9.8 million people. The largest city has a population of 51 thousand people, the second largest 19 thousand. There are 3 other cities of note in the kingdom, and 75 towns. The remaining population lives in numerous small villages, which includes a mixture of both Nordic humans and dwellings which commonly make up the amount of people living here. 
The Kingdom of Byrgisvik has 40 active castles and 12 ruined. Of these, grand holds inside the mountain and 25 ruined are in civilized lands from previous wars, and 46 castles and 13 ruined are outside the boarders of the mountain kingdom within the wilderness, along borders, etc.
Geography and Outline
Edit
City View
Edit
Notable Locations
Edit
Political Life
Edit
City Gallery
Edit